Sno Cone Concession Machine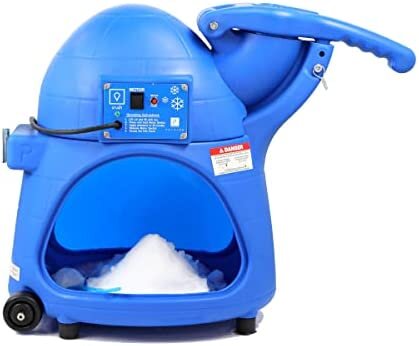 $99.00
Prices are subject to change depending on Date and Demand
Setup Area: 3x2
Actual Size: 3x2
Outlets: 1
Description
Sno-Kone machine complete with supplies for 50 people. You just need to supply the ice.
Add this item to your cart if you are not renting a bounce house combo or water slide or any inflatable.
If you book a bounce house or any inflatable, you can have the concession machines as add-ons for a discounted price.
EQUIPMENT & INSTRUCTIONS
1. Fill the hopper to within an inch from the top with ice cubes or block ice (no larger than 3 to 4 inches). The larger the pieces, the better the snow.
2. Switch the motor on, and wait for it to reach full speed (this will take a minute or so)
3. Press the pusher handle down against the ice in the hopper. Apply firm and even pressure to make the best snow. Practice will enable you to gauge when to stop. This allows the ice to resettle against the shaver head. You may find that you need to relieve the pressure two or three times during a cycle. Too much pressure will result in snow that is coarse; too little pressure will make the snow mushy.
NOTE:
Never allow any foreign or metallic objects around the shaver area of the Sno-Konette. Ice picks, scoops, and debris that may be in the ice often damage blades.
ICE REQUIREMENTS:
The Sno-Konette can take ice cubes.
Reminder: Equipment is rented and instructions are given. The company is not responsible for preparing food items.
For additional instructions you can view this video from Gold Medal Concessions the manufacturer
https://www.youtube.com/watch?v=3-NtpPBnp_g