20 x 20 Tent lights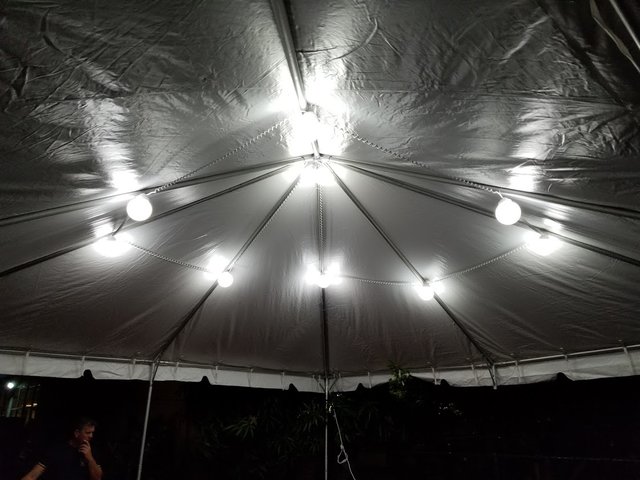 $40.00
Prices are subject to change depending on Date and Demand
Description
20 x 20 Tent Lights Rental
Transform Your Event with Enchanting Elegance: White Globe String Light Set

Do you offer tent lighting rental?
Bounce House Broward presents a dazzling addition to your event arsenal – our exclusive 8-Count White Globe String Light Set. Designed to cast a warm, inviting glow, these lights are perfect for creating an unforgettable ambiance at your next event. Whether it's a backyard party in Broward County or a grand celebration at a local church or school, these lights are sure to enhance the mood and elevate the setting.
What are the feature of your tent lights rental?
Weather-Resistant Durability: Crafted to withstand Florida's ever-changing weather, our globe lights ensure your event shines on, rain or shine.

Extended Reach: With a generous 30 feet of outdoor cord, these lights offer flexibility in setup and placement, ensuring every corner of your venue is beautifully illuminated.

Elegant Design: Each strand features 8 perfectly sized 6-inch globes, emitting a soft, diffused light that adds a touch of sophistication to any setting.

Effortless Installation: Easy to set up and take down, these globe lights are not just beautiful but also practical, making them ideal for busy event planners and DIY decorators alike.

Versatile and Vibrant

From adding a romantic glow to wedding tents to brightening up nighttime carnival games, these globe lights are versatile enough for any event type. Pair them with our range of tents, tables, and chairs to create a cohesive and stylish look for your event.
Light Up Your Next Event



Don't let your special occasion fade into the night. Let Bounce House Broward's White Globe String Light Set be the highlight of your event décor. Contact us to add this enchanting feature to your rental today and watch as your event transforms into a luminous celebration!